PASCO, Wash. -- The family of an orchard worker who was fatally shot by Pasco police after he was accused of throwing rocks at officers has filed a $25 million claim against the city.
Attorney George Trejo is representing the widow of 35-year-old Antonio Zambrano-Montes and their two daughters. Trejo says he hopes to eventually file a federal civil rights case.
"They should immediately be charged with murder," Trejo said Friday of the officers involved in the shooting. "Let's do an investigation of whether the use of force was justified."
During a news briefing Friday, Pasco police said the investigation into Tuesday's police shooting has been turned over to a separate special investigative unit with the Kennewick Police Department. Kennewick detectives have interviewed 40 witnesses and were asking more witnesses to come forward, even if they remember the smallest detail about the shooting.
"Please share it," said Franklin County Prosecutor Shawn Sant. Witnesses are asked to call a special hotline at 509-491-4011.
Related: Officer involved in Pasco shooting named in previous lawsuit
Detectives also plan to analyze slowed down amateur video of the police shooting.
"There is dash cam video and radio recordings," said Ken Lattin with the Kennewick Special Investigation Unit.
"This case will be decided on the facts. Trust the process," said Lattin. "This is not your favorite crime scene show on TV that can be solved in 60 minutes. This can take weeks, and even sometimes months before we collect all the information."
Washington State Patrol experts are helping reconstruct events in the shooting for the independent investigation.
While the Kennewick Police Department is not involved in the investigation, Kennewick officers are involved with a protest planned for Saturday in Pasco. Organizers say they are working with Pasco police for a safe and peaceful protest. Organizers are asking protester to NOT bring rocks to the rally.
Related: Protesters plan more rallies over fatal Pasco police shooting
Court documents show Zambrano-Montes had two violent confrontations with Pasco police in 2014. The first case in January stemmed from alleged vandalism by Zambrano-Montes. When officers arrived, he started threw a rocking chair and a mailbox at them, then started fighting. He grabbed for an officer's gun, records show, and was only subdued with a taser gun. One officer involved suffered a concussion.
The second incident was in July. A caller told police Zambrano-Montes was locked in the basement of a house with a kitchen knife. Officers found him and, according to court documents, compared him to the "Tasmanian Devil" covered in "sweat and blood." Again, there was a confrontation and again, tasers were deployed.
Trejo said past incidents do not relate to Zambrano-Montes's death Tuesday.
"You have this low-level criminal offense in the past, therefore the police are allowed to murder you? No," he said.
Trejo said Zambrano-Montes's wife and daughter are coming up from California and should be in Washington state later in the week. They will not be at the rally on Saturday, he said.
KING 5's Dan Cassuto, Liza Javier and John Langeler contributed to this report.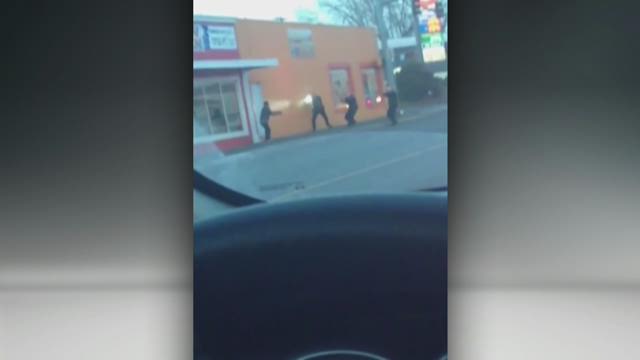 1/16/2015- Washington Post
The North Miami Beach police department was discovered last month to be using mug shots of African Americans for sniper practice at a firing range. NBC News Channel 6 in Miami broke the story Thursday, after hearing from a member of the Florida Army National Guard who showed up with her unit for weapons qualification at the same commercial firing range used by the police and discovered the targets left behind, an array of six African Americans.
North Miami Police Chief J. Scott Dennis, while conceding that his department "could have used better judgment," denied any racial profiling. He said the department uses pictures of people of all races for target practice. But the day National Guard Sgt. Valerie Deant showed up, she saw only African Americans. And what really upset her was that among the mug shots riddled with bullet holes was one of her own brother, who had been arrested 15 years earlier in connection with a drag racing incident that resulted in two deaths.
"I was like why is my brother being used for target practice?" Deant told the TV station. She called her brother, Woody Deant, who said he was "speechless….The picture actually has like bullet holes," Woody Deant said. "One in my forehead and one in my eye."
"Now I'm being used as a target?" he told the station. Woody Deant served four years in prison and said "I'm not even living that life according to how they portrayed me as. I'm a father. I'm a husband. I'm a career man. I work 9-to-5."
The station quoted Dennis saying that the sniper team includes minority officers, and that the practice was important for facial recognition drills. "Our policies were not violated," Chief Dennis told the station. "There is no discipline forthcoming from the individuals regarding this….We utilize an array of pictures…We have an array for black males. We have an array for white and Hispanic males."
 "What we are very very concerned about…is that it happened to be someone arrested by this agency. That individual would be someone who would be on the streets of North Miami Beach." The story comes at a sensitive time for relations between police and African Americans nationally as a result of the highly publicized killings of unarmed African Americans Michael Brown in Ferguson, Mo., and Eric Garner in New York at the hands of white officers.By Fred Barbash